Product introduction:
1.Ingersoll Rand compressor oil air separator filter is a kind of Compressor Use Filter which is installed
at the exit of the screw air compressor to separate the oil and air to get the clean compressed air.
2.We have been specializing in this field for 6 years, and we can offer air filters & oil filters & oil separator filters
for many brands like Atlas Copco, Ingersoll Rand, Fusheng, Sullair, Compair, etc.

Pricture show: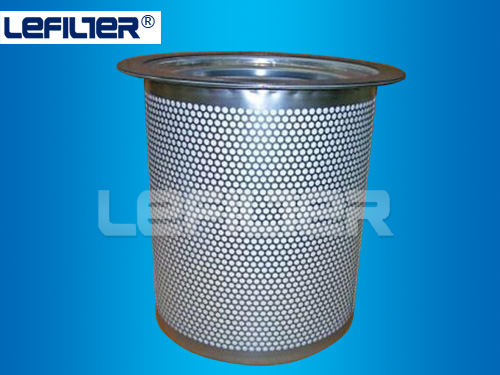 Product features:
1. Dimension: 135*302mm (1 1/2-16UNF)
2. Precision: 0.1 um
3. Material: imported fiberglass
4. O-Ring: NBR, VITON
5. Life span: 3500-5200 hours
6. Filtering efficiency: 99.99%

Products application:
1.Thermal power and the nuclear: turbo-generator, boiler lubrication system, speed control system, bypass
control system of the purification of the oil, water pump, fan and dust removal system purification.
2.Mechanical processing equipment: papermaking machinery, mining machinery, the injection molding mac-
hine and large precision machinery lubrication system and compressed air purification.
3.Railway internal combustion engines and generators: lubricating oil and oil filter.
4.Automobile engine and engineering machinery: internal combustion engine with air filter, oil filter, fuel filter,
engineering machinery, the ships, the vehicles to use all kinds of hydraulic oil filter, diesel oil filter, water filter.
5.All kinds of lifting, handling homework: lifting, loading and other construction machinery to fire, maintenance,
handling special vehicle, ship's cargo crane, anchor machine, etc.

Quality assurance:
ISO 2941------Collapse & Burst Resistant
ISO 2942------Fabrication & Integrity Test
ISO 2943------Material Compatibility with Fluids
ISO 3724------Flow Fatigue Characteristics
ISO 3968------Pressure Drop vs. Flow Rate
ISO 16889------Multi-pass Performance Testing
Customer visit:

You may be interested in our other products as follows:
Air compressor filters: Atlas Copco, Ingersoll Rand, Fusheng, Sullair, Compair, Liutech
Compressed air filters: Atlas Copco, Ingersoll Rand, Orion, JM, BEA, SMC, Ultrafilter, Domnick Hunter, Hankison, Hiross
Oil filter machine: portable oil filter machine, movable oil filter machine, high precision oil filter machine and so on.